Not A Leading Lady
The Vice President is the Rodney Dangerfield of government positions. John Adams call it "the most insignificant office that ever the invention of man contrived or his imagination conceived." Daniel Webster turned down the office, saying he didn't wish to be buried until he was dead. Hary Truman said the job consisted of going to weddings and funerals. And John Nance Garner famously observed the position was "not worth a bucket of warm piss."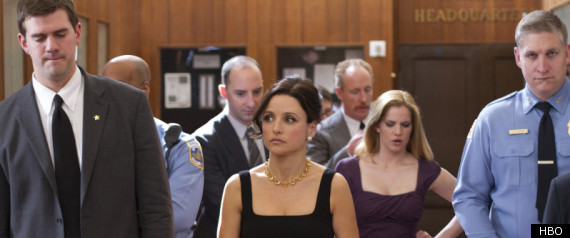 So while Presidents are great for drama, Veep's are naturals for comedy. I suppose the most famous case was Alexander Throttlebottom in
Of Thee I Sing
--he's not much a part of the action, but he generally steals the show. And now we've got
Veep
, the new comedy from HBO, starring Julia Louis-Dreyfus as the title character. She plays yet another Vice President who gets no respect, along with her hapless staff, played by Matt Walsh, Tony Hale and Anna Chlumsky.
Though she travels in the halls of power, it's easy for Senators to ignore her and the President (whom we never see) to dump his dirty work on her. The pilot has her making a gaffe and hustling to undo the damage. (I might add that not much is made of Dreyfus being the first female Veep.)
It's a one-camera show, though, happily, not another fake documentary with people talking to the camera. The people are smart (allegedly) and have snappy dialogue, often talking trash behind each others' backs, and using plenty of sexual metaphors. While the show has a cynical take, the character are at least not as vile as the high-powered characters in Showtime's
House Of Lies
.
As for politics, they're in the background. Though the Veep's party is not mentioned, she does support some sort green project which doesn't seem to be going well. In general,
Veep
seems to be more about people than policy (though that might change).
Overall, I enjoyed the show, but I didn't laugh that much. Perhaps that'll be easier now that the basic situation has been explained. I'll certainly check back next week to see where it's going.