He's Back To Looking Back
My friend Jesse Walker (whose excellent book
The United States Of Paranoia
is available in bookstores and online) is back with his yearly
top ten best films list
. But instead of 2013, he's looking at 2003. And he'll be going back every decade ending with a 3 back at least to the beginning of the talkies. (He's been doing it for over a decade, so he'll soon be going over old lists and seeing how they stand up.)
So what does he think of 2003? Here's his top ten: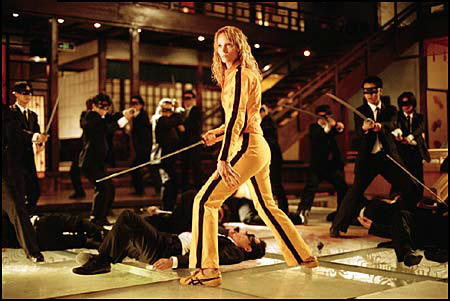 1.
The Wire 2
2.
Tarnation
3.
The Saddest Music in the World
4.
Osama
5.
Lost in Translation
6.
Saraband
7.
Kill Bill: Vol. 1
8.
Good Bye Lenin!
9.
Looney Tunes: Back in Action
10.
Capturing the Friedmans
As Jesse knows, I don't agree with putting TV shows on film lists. First, episodic television is simply a different medium. (I don't even include made-for-TV movies). Second, if you put them on the list, over the past decade of so I can envision top ten "film" lists mostly made up of TV shows, and somehow that can't be write. That said,
The Wire
is one of the greatest TV shows ever (though I think season 2 is the weakest except for season 5).
Tarnation
should be on the list. Probably the same for
The Saddest Music In The World
. Haven't seen
Osama
or
Saraband. Lost In Translation
I don't get--very little happens and I don't really care about any of it.
Kill Bill I
has some nice set pieces, but overall I think the
KB
films are Tarantino's weakest, and wouldn't make my top ten.
Good Bye Lenin!
should at least be top twenty.
Looney Tunes: Back In Action
isn't bad, but not top ten material.
Capturing The Friedmans
should probably make the list.
11.
The Triplets of Belleville
12.
Swimming Pool
13.
The Agronomist
14.
Spring, Summer, Fall, Winter...and Spring
15.
A Mighty Wind
16.
All the Real Girls
17.
Hurt
18.
Code 46
19.
My Architect
20.
Cunnilingus in North Korea
11 would make my top ten list (and just missed Jesse's). 12, 14, 15, 18 and 19 should all be at least top twenty. The rest I haven't seen.
And I agree with Jesse--the year's biggest hit and winner of the most Oscars ever,
The Lord Of The Rings: The Return Of The King
--is a huge snooze.
Here are some films Jesse doesn't mention that might make my top ten: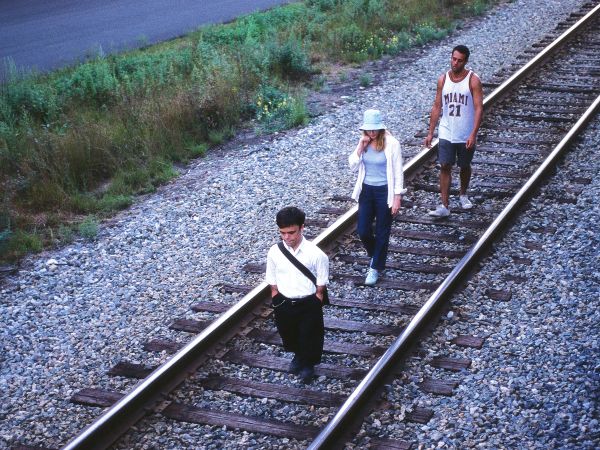 American Splendor
(which I just watched last weekend by chance)
The Barbarian Invasions
Elephant
Oldboy
The Station Agent
The Wild Parrots Of Telegraph Hill
Here are other films from 2003 I thought were good:
Bright Young Things, Broadway: The Golden Age.
(parts of)
Coffee And Cigarettes, Dogville
(if it were half as long),
Finding Nemo, The Five Obstructions, Freaky Friday, Girl With A Pearl Earring, Japanese Story, Kitchen Stories, Pieces Of April, School Of Rock, Sky High
Other films of note:
2 Fast 2 Furious, 21 Grams, Aileen: Life And Death Of A Serial Killer, Alex & Emma, American Wedding, Anger Management, Anything Else, Baadasssss!, Bad Santa, Basic, The Battle Of Shaker Heights, Battle Royale II, Big Fish. Breakfast With Hunter, Bringing Down The House, The Brown Bunny, Bruce Almighty, Bulletproof Monk, Calendar Girls, Casa De Los Babys, The Cat In The Hat, Charlie's Angels: Full Throttle, Cheaper By The Dozen, The Company, The Cooler, The Core, D.E.B.S., Daddy Day Care, Danny Deckchair, Dickie Roberts: Former Child Star, Le Divorce, Down With Love, The Dreamers, Duplex, Elf, The Fog Of War, Freddy V. Jason, From Justin To Kelly, Ghosts Of The Abyss, Gigli, Grimm, Guru, The Haunted Mansion, The Hebrew Hammer, Holes, Hollywood Homicide, House Of 1000 Corpses, House Of Sand And Fog, How To Deal, How To Lose A Guy In 10 Days, Hulk, The Human Stain, Identity, In The Cut, The In-Laws, Intermission, Intolerable Cruelty, The Italian Job, Johnny English, Ju-on: The Grudge 2, Just Married, Kangaroo Jack, Lara Croft Tomb Raider: The Cradle Of Life, The Last Samurai, The Last Supper, The League Of Extraordinary Gentlemen, Levity, The Life Of David Gale, Love Actually, Madeleine, Malibu's Most Wanted, Mambo Italiano, Masked And Anonymous, Master And Commander: The Far Side Of The World, Matchstick Men, The Matrix Reloaded, The Matrix Revolutions, Mayor Of The Sunset Strip, The Medallion, Melvin Goes To Dinner, The Missing, Monsieur Ibrahim, Mystic River, Northfork, Old School, Once Upon A Time In Mexico, Open Ranger, Open Water, Out Of Time, Owning Mahowny, Party Monster, Pauly Shore Is Dead, Paycheck, Peter Pan, Pieces Of April, Pirates Of The Caribbean: The Curse Of The Black Pearl, Radio, The Real Cancun, The Reckoning, The Recruit, Robot Stories, The Room, Rugrats, Runaway Jury, Saw, Seabiscuit, Secondhand Lions, Shanghai Knights, The Singing Detective, The Sleeping Dictionary, Something's Gotta Give, Spy Kids 3-D, The Statement, Stealing Rembrandt, Step Into Liquid, Stuck On You, S.W.A.T., Sylvia, Tears Of The Sun, Terminator 3, The Man Of The Year, Thirteen, Timeline, Touch & Go, Twentynine Palms, Under The Tuscan Sun, The United States Of Leland, Uptown Girls, Veronica Guerin, View From The Top, What A Girl Wants, Wonderland, The Yes Men, Young Adam