Arkeology
With the movie
Noah
set to open this week, Dennis Prager is
writing about
the Biblical version. You can decide if you agree with his take that this is one of the most moral stories ever told.
But what caught my eye was this: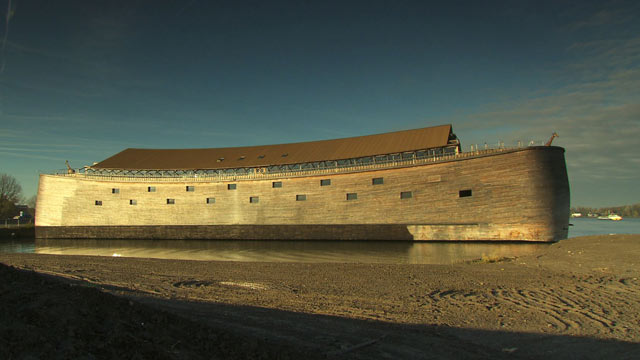 Q: Isn't the biblical flood story just a fairy tale?
A: Two responses:
First, this is so only if you believe that the biblical flood story states that the entire earth from the North Pole to the South Pole was flooded and that every living creature from penguins to polar bears, except for the animals and the people on Noah's ark, was killed. But that is not what the story says. The narrative speaks of the world where Noah lived: It is expressly stated in Genesis 9:10 that there were other animals in the world that were not killed by the flood.
Wow! That's a blockbuster. So what millions or more likely billions of people believe and have believed for centuries is not true.
If you're wondering, this is Genesis 9:10...
And with every living creature that is with you, of the fowl, of the cattle, and of every beast of the earth with you; from all that go out of the ark, to every beast of the earth.
Now Dennis may believe he's got the proper understanding and, for that matter, translation of the Bible on his side, but I wonder how many scholars agree. I mean, I thought Genesis was pretty clear on the issue. For instance, from Chapter 7:
21
And all flesh died that moved upon the earth, both of fowl, and of cattle, and of beast, and of every creeping thing that creepeth upon the earth, and every man:
22
All in whose nostrils was the breath of life, of all that was in the dry land, died.
23
And every living substance was destroyed which was upon the face of the ground, both man, and cattle, and the creeping things, and the fowl of the heaven; and they were destroyed from the earth: and Noah only remained alive, and they that were with him in the ark.
It's not much of a story if everything doesn't die. Why bother to invite all those dirty animals onto his ark if they as a species were going to survive anyway? Why go to all the trouble of making Noah build an ark when you can just tell him to take a hike until he's outside the flood zone? And how wide is the flood, anyway? Just a local thing that bothered the evil people in Noah's village? Enough to kill all the humans on Earth? Is it a bunch of separate floods that cover just where humans live, or one big flood that happens to fit around every place where people are? And don't forget, Noah was on that boat a long time--couldn't he have found dry ground faster if the flood were local?
I don't know--seems to me unless it's about the entire planet, it seriously takes away from the majesty of the narrative.
Also note Prager seems to claim you can take the story literally if you believe it's not a worldwide flood. So we can believe that several thousand years ago a 600-year-old man, on direct orders from above, builds a huge ship, gets a gigantic menagerie aboard, it rains so much for a long time that a large area is flooded and every other human dies (I get the impression Prager believes all other humans died in the flood, though I'm not 100% sure), and then some time later he gets to dry ground and every person alive today is descended from the people on that ship.
Okay. As long as we're clear.