Dead Again
I recently
caught up with
the first three seasons of
The Walking Dead
on Netflix. Since then, thanks to On Demand, I've seen the
fourth season
, with a month to spare before
season five
starts. Spoilers ahead.
It struck me as more of the same. Zombies are fun, and people fighting each other while also worrying about zombies can make for decent action. But the characters are pretty thin and the plot stretched out--what took them 16 episodes could probably have been accomplished in half as many It's also getting a bit repetitive, since you can only be surrounded by zombies in so many ways.
In fact, I had plenty of time to think about unanswered question during the many slow moments. First, just how did the zombies take over? They're deadly and relentless, but they're brainless and not that fast. Sure, the early shock would give them the edge, but once the problem becomes clear, it seems to me a decent army division, properly equipped and trained, could take out millions. But let's say no one was paying attention and right now the undead outnumber the living a hundred to one. No big deal. Everyone's got a quota--try to kill two or three a day, shouldn't be that hard, and before you know it no more zombies. After all, the enemy doesn't strategize and doesn't reproduce. Heck, just kill one a day and in three or four months you're safe. Another question--does becoming a zombie makes your bones go soft, because it sure is easy to slice of their heads, or stab them through the skull. One more thing. In the first season, people took great care not to get even the slightest amount of zombie blood on them. Now they get splattered with the stuff. Okay, they've learned it's no big deal, even if they're all infected and will go zombie when they die, but it's still pretty odd. I mean, if a zombie bites you, you die and turn into one, but zombie blood and other parts on your skin (especially on open sores, which there seem to be plenty of in this violent world) and sometimes in your mouth or eyes does nothing?
I was a bit surprised by the first episode of season four, since we're still in the prison from the third season, and not going anywhere. Previously, each season started with a move to a new location. Instead, we spend half the season stuck in what was destroyed, I thought, in season three. There are new characters, and some die--mostly the newbies. There's also an outbreak of flu. Really? We've already got everyone turning into zombies, and that's not enough?
We also meet up with the Governor again, who should have been dealt with last season. He attacks the prison...didn't he do that last season as well? At least Hershel dies. I was hoping that guy wouldn't make it past season two, so this was a long time coming. Alas, pretty much all the other regulars make it to the end, including Glenn, who used to be fun but is insufferable now that he's in love with Maggie, and Rick's tiresome teenage son Carl.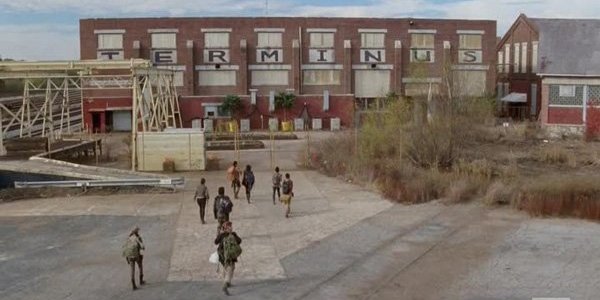 The team is forced out of the prison. Everyone thinks everyone else is dead, but they all make it one way or another. The various escapees get their own episodes with their own adventures--sort of a break in the format. Then most of them meet in Terminus, a place that says it offers sanctuary but is much more sinister. So we know where we're going to start season five, and it's not a bad place, since we've got new and interesting bad guys, and the good guys are reunited and have their backs against the wall. I expect I'll be watching it along with the millions of others who have made it TV's biggest phenomenon, but it won't be high priority.
One good thing about the show--it's got a positive message. All it will take to get the races living together in harmony is a zombie apocalypse.