Dead Done
I didn't like the idea of a TV show about zombies. Zombies in a movie with an ending I get, but the relentlessness week after week would get tiresome. So at first I didn't watch
The Walking Dead
which nevertheless managed to become TV's biggest phenomenon.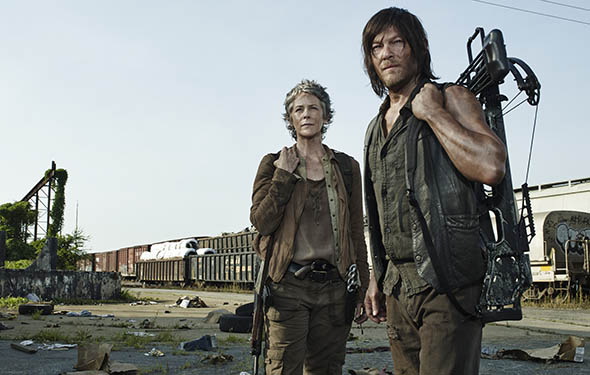 Eventually I wanted to see what all the fuss was about, so I started watching and caught up during the fourth season. The fifth season, which just ended, was the only one I watched as it was being aired. I haven't changed my view much: it's not a bad show, but is far from great. It tries for some psychological depth, but generally fails, and much of the action is repetitive.
Still, the fifth season was maybe the best since the first. It had a somewhat different plot from the usual--normally the main group has to fight nasty people (along with the zombies), but this season they had to live with people who were nicer than they were. I especially liked Carol. She started as a weak, abused woman who had to learn how to be tough. This season allowed her to pretend to be a quiet homemaker to cover just how tough she's become.
But really, how much longer can this show go on? Do the math. Even if humans are outnumbered 100-1 by zombies, at the rate our heroes are killing them, they'd be pretty much gone by now.