Twentieth Century Fox And Others
Jesse Walker continues his trip back through the decades, now announcing his
top ten films for 1995
. Sorry to sound like a cliché, but it's hard to believe it's been twenty years since then.
Here's his list, followed by my comments.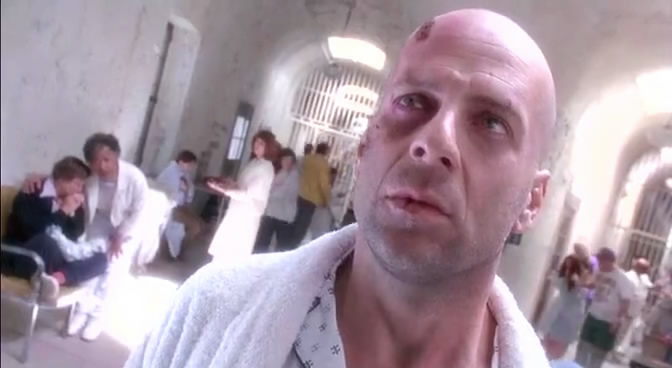 1.
Safe
2.
Smoke
3.
Twelve Monkeys
4.
Mabarosi
5. Toy Story
6. The City Of Lost Children
7. Shanghai Triad
8. Funny Bones
9. Get Shorty
10. Welcome to the Dollhouse
Interesting list. Safe has never done it for me, and I haven't seen Mabarosi, but the rest would be high on my list. Toy Story, Get Shorty and Welcome To The Dollhouse would be top ten and the rest might make top twenty.
Here are Jesse's honorable mentions:
11. La Cérémonie
12. Tierra
13. Electronic Superhighway
14. The Drivetime
15. Clueless
16. Whisper of the Heart
17. A Close Shave
18. Underground
19. The Wife
20. Casino
I like Clueless, A Close Shave and Casino (which has aged well), but I have to admit I haven't seen the rest.
Here are some films that would have made my top ten list:
The Brady Bunch Movie
Cold Comfort Farm
Dead Man
Jumanji
Living In Oblivion
Pocahontas
To Die For
Here are some other films from 1995 that I liked:
An Awfully Big Adventure, Babe, Clueless, Crumb, The Fantasticks, (parts of) Four Rooms, From The Journals Of Jean Seberg, Kicking And Screaming, Kids, (some of) Mr. Holland's Opus, Richard III, Rumble In The Bronx, Showgirls, (parts of) Skin Deep, Unstrung Heroes, While You Were Sleeping,
Other films of note:
Ace Venture: When Nature Calls, Across the Sea of Time, The Addiction, The American President, Angel Baby, Angela , Angels & Insects, Angus, Antonia's Line, Apollo 13, Assassins, Attack of the 60 Foot Centerfold, An Awfully Big Adventure, The Baby-Sitters Club, Bad Boys, Bad Company, The Basketball Diaries, Batman Forever, Before Sunrise, Between the Devil and the Deep Blue Sea, Beyond Rangoon, Billy Madison, The Blade, Boys On The Side, Braveheart, The Break, The Bridges Of Madison County, The Brothers McMullen, Bushwhacked, Buttterfly Kiss, Bye Bye Love, Canadian Bacon, Candyman: Farewell to the Flesh, Carrington, A Chinese Odyssey, Circle of Friends, Clockers, Commissioner, Congo (a friend of mine dies early in this film),
Copycat, The Cremaster Cycle, Criminal, Crimson Tide, The Crossing Guard, Cry, the Beloved Country, The Cure, Curtains, Cutthroat Island, Darkman II: The Return of Durant, Days of Rage, Dead Man Walking, Dead Presidents, Deep River, Destiny Turns On The Radio, Devil in a Blue Dress, Die Hard With A Vengeance, Dolores Claiborne, Don Juan DeMarco, Dr. Jekyll and Ms. Hyde, Dracula: Dead and Loving It, Empire Records, The Englishman Who Went up a Hill but Came down a Mountain, Fair Game, Fallen Angels, Father of the Bride Part II, First Knight, Fluke, For Better or Worse, Forget Paris, Free Willy 2: The Adventure Home, French Kiss, Friday, Full Throttle, Georgia, Godzilla vs. Destoroyah, Gold Diggers: The Secret of Bear Mountain, GoldenEye, A Goofy Movie, Gordy, The Grass Harp, Grumpier Old Men, Gumby: The Movie, Hackers, Halloween: The Curse of Michael Myers,Headless Body in Topless Bar, Heavy, Heavyweights, Higher Learning, Houseguest, How to Make an American Quilt,
In the Mouth of Madness, The Indian in the Cupboard, It's Pat, Jefferson in Paris, Jeffrey, The Jerky Boys: The Movie, Johnny Mnemonic, Judge Dredd, Just Cause, Kickboxer 5, A Kid In King Arthur's Court, Kidnapped, Kiss of Death, Last Summer in the Hamptons, Leaving Las Vegas, Leprechaun 3, Little Criminals, Little Odessa, A Little Princess, Losing Isaiah, Mad Love, Major Payne, Mallrats, Man Of The Year, Miami Rhapsody, Mighty Aphrodite, Mighty Morphin Rangers: The Movie, Money Train, Moonlight and Valentino, Mortal Kombat, Murder In The First, My Antonia, My Father Is a Hero, The Net, Never Talk to Strangers, Nick of Time, Nine Months, Nixon, Now And Then, Operation Dumbo Drop, Othello, Outbreak, Party Girl, The Piano Lesson, Picture Perfect, Piranha, Pyromaniac's Love Story, The Quick And The Dead, Requiem, Restoration, Rob Roy, Roommates, The Scarlett Letter, Screamers, Sense And Sensibility, Seven, Slam Dunk Ernest, Something to Talk About, Species, Steal Big Steal Little, Strange Days, Stuart Saves His Family, Tales From The Hood, Tall Tale, Tank Girl, Target, Things to Do in Denver When You're Dead, To Wong Foo, Thanks for Everything! Julie Newmar, Tom and Huck, Tommy Boy, Under Siege 2: Dark Territory, The Underneath, The Usual Suspects, Vampire In Brooklyn, Village Of The Damned, Virtuosity, Waiting to Exhale, A Walk in the Clouds, Waterworld, White Man's Burden, Wild Bill, The Young Poisoner's Handbook