Part Of The Way
I just watched HBO's TV film
All The Way
. Starring Bryan Cranston and directed by Jay Roach, it's about LBJ with an emphasis on his work in civil rights. The script is by Robert Schenkkan, based on his Broadway play that already won a Tony Award for him and Cranston. (A Tony is nice, but Schenkkan had already won the even more prestigious Pulitzer Prize for
The Kentucky Cycle
in 1992.)
Lyndon Johnson had a long, colorful political career before he was President, but there's no time for that in this two-hour+ movie--it starts with him taking office after JFK was assassinated. The big story is how will he pass civil rights laws with the southern wing of his own party deadset against it, and ready to filibuster. As you'd expect--in fact, as you know--he does a lot of arm-twisting and a little horse trading to get things done.
There's a solid supporting cast, with Anthony Mackie as Martin Luther King, Jr., Bradley Whitford as Hubert Humphrey, Stephen Root as J. Edgar Hoover*, Melissa Leo as Ladybird Johnson and Frank Langella as Senator Russell, to name just a few. But really this is Cranston's show. He's been having a good time lately. After winning a bunch of Emmys for
Breaking Bad
, he's been nominated for an Oscar for
Trumbo
, and won a Tony for this role and will likely win another Emmy for it. He's quite convincing (more than he was as Dalton Trumbo, I'd say)--he doesn't just capture Johnson's spirit, he actually looks and sounds like him. Unfortunately, the others characters too often seem to be there just for him to play off, rather than living on their own.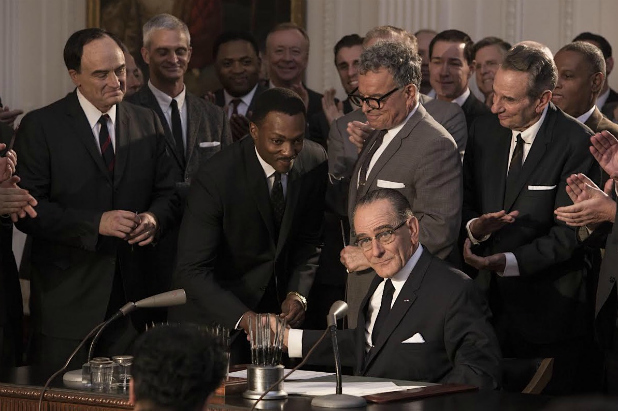 The film does a decent job bringing the era to life, but like so many looks back, there's a built-in problem. First, of course, we know how things will turn out, and many of us have a pretty good idea how the Civil Rights Act of 1964 and the Voting Rights Act of 1965 made it through Congress. Also, we know who the good guys are, looked at through the lens of the modern political consensus. The show, by its very nature, has to be a bit simplistic, but the "good guys" can sometimes be a bit bloodless. And LBJ, even if this is meant to be a warts-and-all portrait, doesn't have to show too many warts, or has his warts forgiven because his hearts in the right place.
So a thumbs up more than down, but really, it'd be better to read about it if you want to find out what happened.
*Hoover is one of the few guys in the show who's unequivocally evil. It's ironic, since if you took a poll in America in the early 1960s asking who's the most noble, wonderful human being who ever lived, Hoover would likely have won. Now it's pretty much impossible to show him fictionally without making him look bad. A lesson for us all, I suppose.