Warren Commission
Here it is, June, and Hillary Clinton will (finally) be going over the top in delegates. The first thing she needs to figure out is who will be her running mate. (So does Trump, but somehow, with him, it doesn't seem to matter--he'll always be the whole show).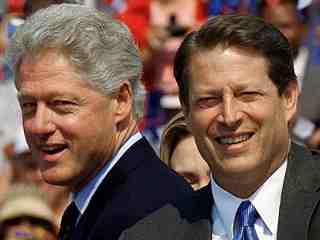 The Veep pick generally doesn't make a difference, but if it turns out to be a close race, every little bit helps. More and more you're hearing the name
Elizabeth Warren
. I say go for it.
It'd be an unusual pick in that it's rare enough to have one woman on the ticket, and we've never had two. And Warren is far left while Hillary may want to appeal to moderates. And she's from a state that any Dem should win easily. And she's a big enough star that she might even outshine Hillary.
But so what? Veep picks are as much about synergy as balance. It's like when Bill Clinton chose another young guy from the South for his running mate--Clinton and Gore as a team offered something new against the old guard. Anyway, Americans aren't that ideological, and will often go for the aura of the candidate more than the specific policies.
Right now, Hillary has more voters than Sanders, but Sanders has all the electricity. There is a fear this lack of passion will translate into lower turnout, deadly in a close race. (The race may not be close, but Hillary can't count on that.) Picking Sanders is another possibility, but they've been at each other's throats too long to join together now, and anyway, he'll be 75 this November, while Hillary at 69 will be old enough--Warren will be a relative spring chicken at 67.
No one else can provide the same excitement. Biden? I don't think so. Sure, Hillary can play it safe, picking a no-name along the lines of a Sherrod Brown. But I say forget the swing states and swing for the fences. We've come this far. Let's go all the way.