The Time Of Nicks
It seems that just a few year ago there was a
bio of Stevie Nicks
out. Guess what? There's another--
Gold Dust Woman
by Stephen Davis. It's not especially well written, but it's still about a fascinating life.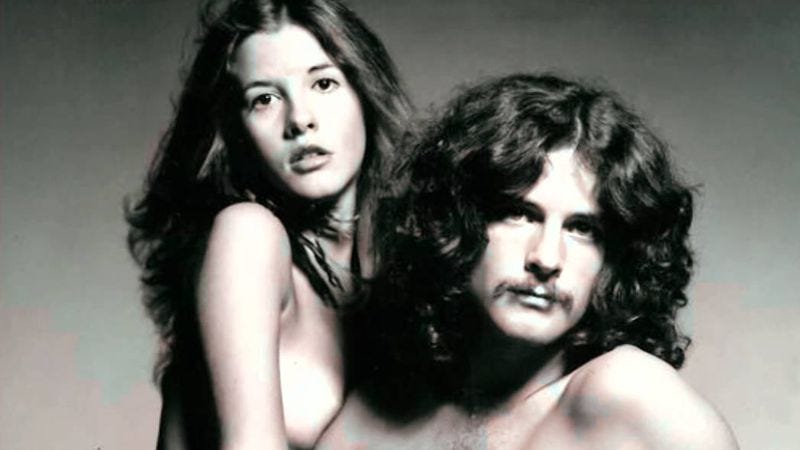 Nicks met Lindsey Buckingham in high school. They later get together in a band named Fritz and played around San Francisco. The band was invited by a producer to come down to Los Angeles. They didn't get a contract, but Stevie and Lindsey were told they should split from the band to make it as a duo.
That they did. They also become romantically involved. They could have made a decent living in a cover band, but they refused to do other people's songs, so they had some lean years where Stevie earned their keep as a waitress. They finally got a recording contract, though their first album didn't do much and they were dropped by their label.
It wasn't clear what was next, but Mick Fleetwood of Fleetwood Mac was at the same recording studio as the two. He was looking for a new guitarist and he heard some of Buckingham's work and decided to hire him, though he understood he'd have to take Stevie too--not that he had to be convinced, since Stevie had talent and was a knockout.
In fact, Lindsey had to be convinced. There was some renewed interest in Buckingham Nicks (the imaginative name of their duo) and he knew if they joined Fleetwood Mac, they just be the bands new junior partners, perhaps disposable. (The only member of Mac, which was down to a trio, who had to be convinced was Christine McVie--there was concern she wouldn't get along with another woman in the group.)
So the two joined, and while it was a step up, it was just as good a deal for Fleetwood Mac. Suddenly they had two new great songwriters and singers, and Buckingham was a master of the studio. Previously, the band had been mid-range popular, selling hundreds of thousands per album, but rarely going gold. Now they were the superstars of soft rock (which was a new category for them).
First came
Fleetwood Mac
, which sold millions, followed by
Rumours
, which sold zillions. And it turned out Stevie was the star of the show. Her songs like "Rhiannon" and "Dreams" were hits, and she got the most attention at their shows. She became the face of Fleetwood Mac, with millions of young women who wanted to copy her style, not to mention a fair amount of young men who had other designs.
While there was plenty of success in the future, Nicks' story gets a bit sad at this point. She splits from Buckingham and there are endless affairs and drugs (same deal for the rest of the band). She also had some health problems along the way, and a lot of heartbreak.
Stevie, at least, was the one band member who managed to establish a major solo career, starting with her multi-platinum album
Bella Donna
, which included the hits "Stop Draggin' My Heart Around," "Edge Of Seventeen" and "Leather And Lace."
Meanwhile, Fleetwood Mac went on to record a number of successful albums (though none as big as
Rumours
), and Stevie contributed classic tunes such as "Sara" and "Gypsy." Ironically, Stevie was not treated well by the band, who still acted as if she were the most disposable member, just some chick who sang an occasional number.
Worst was the treatment she got from former lover Buckingham, who helped produce her songs but could be awfully condescending. The book does not paint a pretty picture of Buckingham, who seems to have had problems. More than nasty, he had a temper and could turn violent. And yet, in later years, when Mick was trying to get a new album or tour going, the only essential member was Stevie. (Fleetwood seems to have spent lavishly, as he was constantly in need of money--of course, he didn't write songs, and so earned half as much as those who did). In fact, At different times, Fleetwood Mac went ahead without Buckingham, without Christine McVie and without Nicks, and the only time they truly failed was that last case.
So here we are today, with Stevie, still out there performing, being the godmother of so many female singers. If the book did nothing else, it got me to go back and listen to all those old tunes.