It's sort of sad when former movie stars who started in TV have to return to TV*. (Only sort of sad--most people wish they could fail at that level.) And it's sort of strange that two such names competed against each other with their own new sitcoms last Thursday night.
But that's what happened with Robin William's
The Crazy Ones
and Michael J. Fox's easier-to-remember
The Michael J. Fox Show
. Williams easily won in the ratings derby--no surprise, since his show followed the top-rated comedy on TV while Fox is part of the underperforming NBC schedule--but is either show any good?
Well, no. But is there hope? Well, maybe, but probably no.
The Michael J. Fox Show
has to deal with the lead's Parkinson's, of course, so he plays a former newscaster who left the air a few years back due to his illness to spend time with his family. Now he's returning to the air. (This allows for cameos from people like Matt Lauer.)
The show is one-camera and done as yet another faux documentary, a form that just won't die. Fox is at the center, which allows those on the periphery to be as wacky or stable as necessary. Fox himself, of course, isn't the same performer he once was, but I think he could still make it work if he were given a better script.
His wife is played by Betsy Brandt, who along with
Breaking Bad
castmate Dean Norris is starring in a new show before her old one is off the air. The cast also features fine actors like Wendell Pierce and Katie Finneran. The whole thing is set in New York, and the characters seem to be having a wild time, but not the audience.
I like
The Crazy Ones
a bit more, but not much. There are actually three big names attached. In addition to Robin Williams, there's Buffy herself, Sarah Michelle Gellar, and the creator is one of the most successful producers in television, David E. Kelley.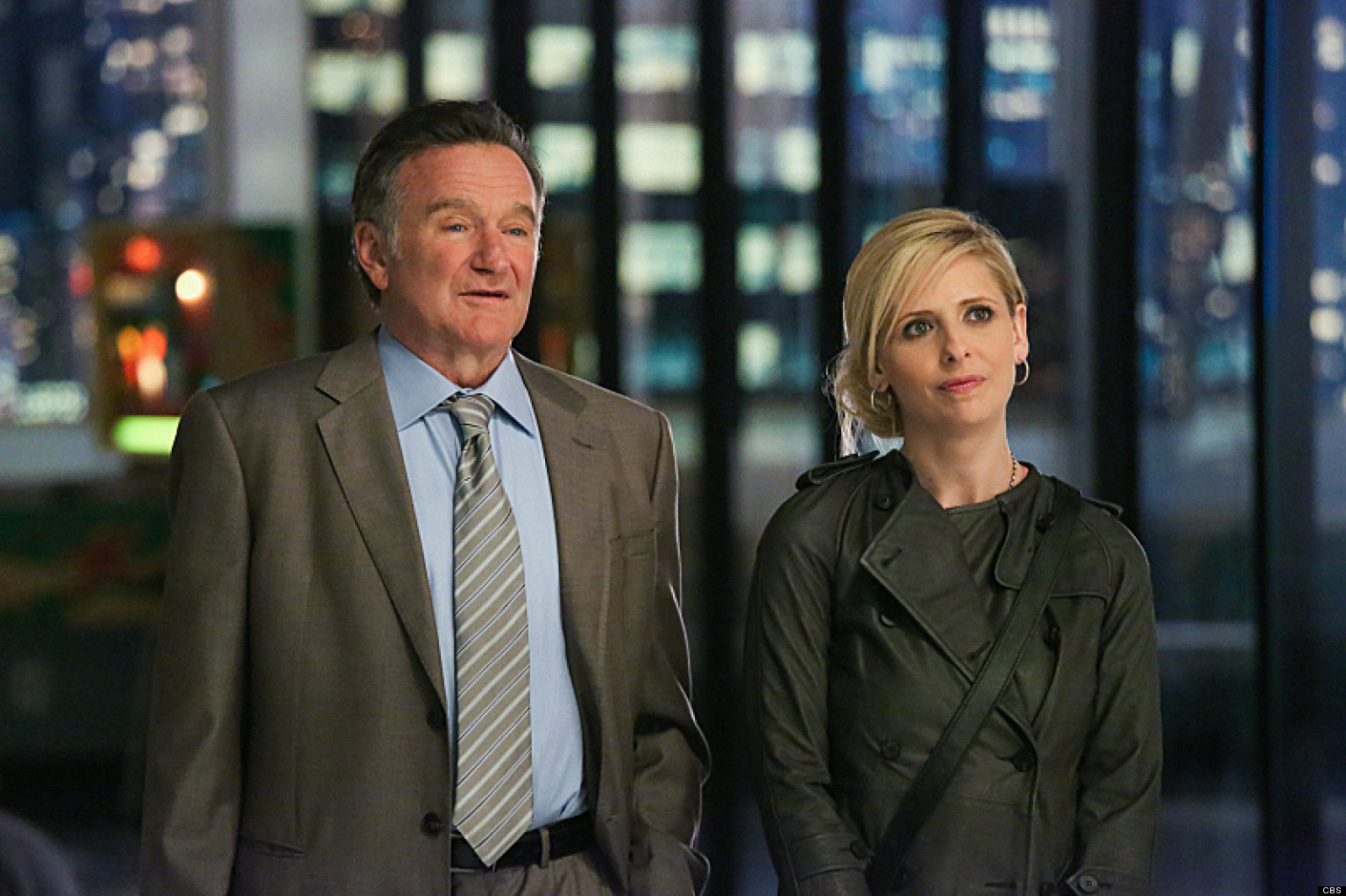 In a part inspired by advertising legend John Montgomery, Williams is Simon Roberts, who can sell anything to anyone, but has been through a lot, including marriage and rehab. His daughter, played by Gellar, is now the other "Roberts" on the door--she may not have her fathers quicksilver talent, but she gets the job done. Several other actors fill out the agency's roster, including James Wolk, recently seen as creepy Bob Benson on
Mad Men
.
The pilot has the agency threatened with losing their big account, McDonald's--like
Mad Men
, real brand names are used--until fast-talking and thinking Williams convinces the company to give the agency one more shot. He's going to get the voice of today to sing the old "You deserve a break today" jingle.
And who's this name? Kelly Clarkson, who makes a guest appearance (and for some reason is more unsettling than seeing Williams back on TV). After some doing they convince her to work with them and everything is peachy. It's hard to say where
The Crazy Ones
(title from a
1997 Apple ad
) will go, but presumably each week on this single-camera show they'll be fighting over one account or another. (
The Crazy Ones
--"
Bewitched
without the magic!")
Williams isn't bad, but we've seen his shtick before and it's a bit tired, as is Williams. Gellar so far is mostly playing the uptight one next to her freewheeling father, and the rest haven't quite formed their characters. So the show's not there yet, and we don't know how Williams will wear this time around. But it might be worth watching if it develops, and if it gets to keep following
The Big Bang Theory
it might be around for a while.
*Actually, Michael J. Fox returned to TV years ago when he starred in
Spin City
, which he starred in for four years before leaving because of Parkinson's disease. His new sitcom could be seen more as a triumphant return, but I was going for a cheap parallel.