Goodbye Hello
The HBO Stephen Merchant comedy
Hello Ladies
hasn't gotten good numbers and it seems unlikely it'll be picked up for a second season. Still, who knows? It's not all about ratings there--they let
Enlightened
go around twice.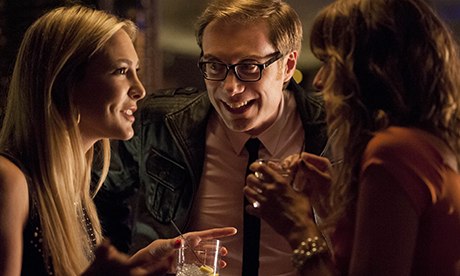 But is it any good? It was created by Stephen Merchant without his
Office-
partner Ricky Gervais, but with Lee Eisenberg and Gene Stupnisky, who worked on the American
Office
. It stars Merchant as a web designer who works in Hollywood and is a loser when it comes to picking up women. He seems to be playing a somewhat more hapless version of himself (I hope). The rest of the cast are generally losers as well, including Nate Torrence who's made a career playing losers, and the lovely Christine Woods.
Like Merchant's previous work, this is cringe comedy. We laugh at his hopeless attempts to ingratiate himself with the opposite sex, but are also horrified. Not unlike the British
Office
or
Extras
, it can sometimes be hard to watch. And it's also all a bit thin. There are laughs, but not as much wit or depth as we might have hoped.
Merchant was excellent as Ricky Gervais' useless agent in
Extras
, but it's not clear if he can carry the whole show himself. Perhaps if he were given a second season
Hello Ladies
would improve, but I'm not counting on it.