Partner Therapy
Won't be long before we get
season 4
of
Game Of Thrones
. I've been watching last season in preparation, and I noticed that the show is often at its best with two characters thrown together for one reason or another. Still, sometimes it doesn't work out. So here are the five best couplings in the show in season 3, and the five worst.
Best Couples: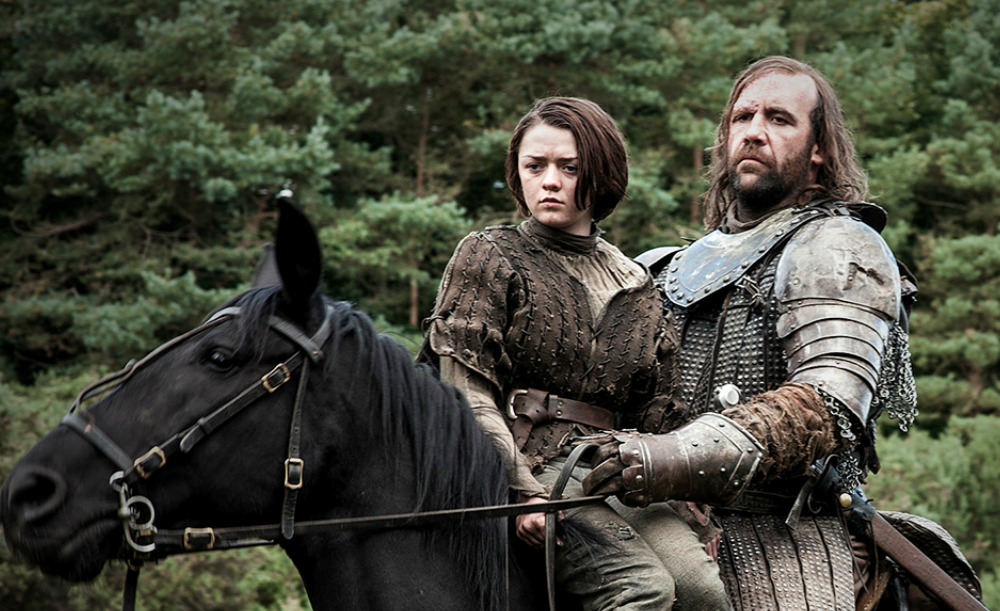 1. Arya and The Hound. The oddest of odd couples, they almost play as a comedy team. The hate each other but are forced together for mercenary reasons. Ironically, down deep they're not that far apart--the Hound does have feelings but he won't show them, and Arya is a remorseless killer in the making.
2. Jaime and Brienne. They bring out the best in each other. Jaime was an amoral joker, but he's opened up, learning to respect and maybe even love Brienne. She's too earnest and is afraid of a world where she's been treated badly, but is learning to reach out a bit more.
3. Jon and Ygritte. She does have a tiresome habit of telling Jon he knows nothing, but when they're together they can melt the snow beyond the Wall.
4. Littlefinger and Varys. The two biggest schemers in King's Landing, they're fair rivals to see who's the last one standing. Varys seems to care more about the Realm, but that hardly guarantees he'll succeed.
5. Samwell and Gilly. Okay, she's a bit simple-minded, but that's probably the type you'd need to fall for Sam.
Worst Couples:
1. Tyrion and Shae. A pity, really. Tyrion is probably the most popular character, and almost any scene he plays--with Bronn, Cersei, Joffrey, Tywin--is riveting. But somehow he's stuck with a shrewish prostitute he brought into King's Landing. Instead of appreciating the great risk he's taking and all he's done for her, every scene they have is her complaining about what he's doing, even though she knows he can't do anything else, or her life will be in danger.
2. Theon and Ramsay. At first there was a little mystery as to what Ramsay wanted from Theon, but since then it's been nothing but sick, perverted torture. Enough already.
3. Stannis and Melisandre. Two of the most humorless characters in the show can get tiresome. Thank goodness Davos is around occasionally.
4. Daenerys and Daario. If Daenerys doesn't want Ser Jorah, who truly pines for her, fine, but does it mean she has to have a schoolgirl crush on this preening pretty boy? Act like a queen, Dany.
5. Robb and Talisa. Both so earnest about everything. Well, I don't suppose they'll bother us much in season 4.
PS I just saw Emilia Clarke and Lena Headey on late night talk shows. Both had dark hair. Freaky.