Treading The Boards
Just read Derek Jacobi's memoir
As Luck Would Have It
. Jacobi is one of the top British actors of our age, but he doesn't have quite the recognition of a contemporary like, say, Ian McKellen. Probably because he never had a major film career.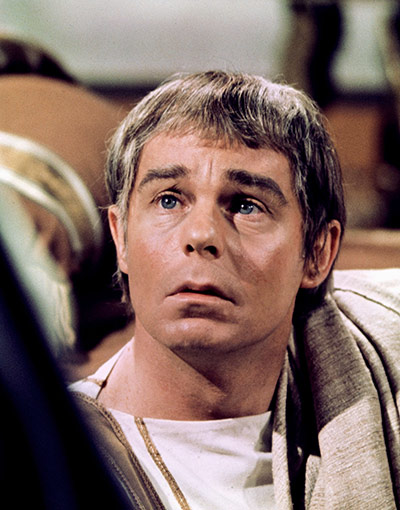 His book is a whirlwind tour. At a bit over 300 pages it reads quickly, divided into the "Seven Ages" of life, broken up into 46 chapters, each one divided into short sections.
He knew he wanted to be an actor at a young age and played major roles as a schoolboy. He went to Cambridge where his talent was recognized and he soon was playing with Sir Laurence Olivier at the National Theatre in London. He'd go on to be a leading man and make a worldwide reputation in the title role of the BBC series
I, Claudius
. But he remained a man of the theatre. As he puts it, "movies make you rich, TV makes you known, but theatre is really where it's at."
And when he was growing up, theatre meant Shakespeare. Yes, he played many roles, some classical, some modern, but whenever your read British theatrical memoirs there's the Bard of Avon--they take in his words with their mother's milk. Jacobi tells us about many productions, good and bad, and how he made his mark in certain roles, such as Hamlet, Benedick, Prospero, Malvolio and Lear. He also got a lot of attention for his Cyrano, Uncle Vanya and Alan Turing in
Breaking The Code
.
He did appear in movies--Kenneth Branagh's
Henry V
and
Hamlet
,
Dead Again
,
Gladiator
,
Gosford Park
,
The King's Speech
and many others--but he never quite got that role that introduced him to the contemporary audience.
We meet all the big names along the way--Olivier, Gielgud, Michael Redgrave, Maggie Smith, Dame Edith Evans, Peter O'Toole and many others. He also has a chapter where he mentions the political players he met (which includes a bit on his personal politics--without fail the most tiresome section in all such books). Threaded through is stuff on his homosexuality, but though it played a central part in his life, he doesn't allow it to overwhelm the book. In general, he comes across as an unassuming guy who is able to bring something special to his roles.
I've seen film of his work in the theatre, but I've never seen him live. As great as he was in
I, Claudius
, I get the feeling that's the best way to see him. Part of the magic of theatre is its evanescence, and while Jacobi has left a little of him behind in his book, I bet he's happiest he left so much behind on stage.