Before He Flew
I loved
Mark Lewisohn's
Tune In
, his 944-page tome on The Beatles. For all its length, it only takes us up to the beginning of the band's recording career. I was reminded of that reading John Cleese's excellent memoir
So, Anyway...
. It's 392 pages and I wouldn't be surprised if readers pick it up expecting Cleese's whole life story. There's little on the cover or back (which has photos and the words "The Making Of A Python") to give a different impression. But, in fact, it only takes us up to the precipice--
Monty Python's Flying Circus
is just starting up when Cleese signs off.
So what we get is a book about everything before he did the thing that made him famous. And it's just what I've been looking for. It's funny, of course, but also fills in the part of his life which, up till now, fans have only known in vague outline.
Cleese was raised in lower-middle-classdom at Weston-super-Mare (those UK names sound so exotic to American ears). His mother was distant and his father instilled in him a certain Britishness, if that's a word (my spell check is saying no).
He liked sports and was a decent if not great student. He also liked comedy such as
The Goons
(every comedy memoir from Cleese's era mentions
The Goons
and later
Beyond The Fringe
) but didn't see himself as someone who'd get involved in show biz.
He went to Cambridge and joined the Footlights club, meeting so many people who'd dominate British comedy for the next generation. He still figured, though, he'd end up in law, which he was reading. The show he was in traveled to the Edinburgh Festival and had some success, and moved to the West End. Next thing you know, they're touring New Zealand and finally ending up on Broadway.
Along the way, Cleese still didn't see it as his life's profession, but upon graduation he was offered two jobs--one in a legal office (not sure if he was going to be a solicitor or barrister) at 12 pounds a week, one in BBC Light Entertainment at 30 pounds a week. And that's why we still celebrate him today.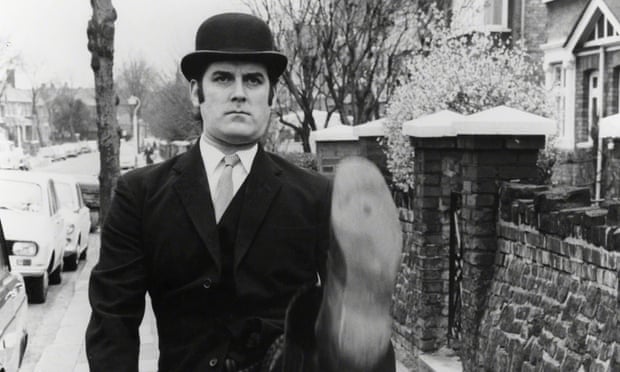 In New York, he met his future wife Connie Booth, worked by chance with future Python Terry Gilliam on a
fumetti
project, and appeared in a Broadway musical,
Half A Sixpence
, though he couldn't sing. (I've listened to the original cast album, and am disappointed to find Cleese only mouthed the words on stage, so his voice can't be heard.)
He came back to England and worked for David Frost, as did every other comedy writer of that generation, including his future Python pals. He also had a partner in fellow Cambridge graduate (he was actually an M.D.) Graham Chapman.
Throughout the 60s, he wrote and starred in quite a few TV and radio shows, and also wrote some movies. He and Graham enjoyed a kid's show entitled
Do Not Adjust Your Set
, so asked those people to do a show together. The BBC went along and
Monty Python
was born.
Two more volumes of Mark Lewisohn's Beatles' saga are promised. Cleese still owes plenty of alimony, so I hope we get two more memoirs from him--one for all the
Python
stuff, one for everything else.