A Barrel Of Laughs
Critic Maureen Ryan has a
piece
in
Variety
on how this is a golden age of comedy on TV. According to her, the first decade of the 21st century was a widely-agreed upon golden age of drama with
The Sopranos
,
Mad Men
,
Breaking Away
and so on, but laughs have since taken over. She calls it the Unicorn Age (I'm not sure why).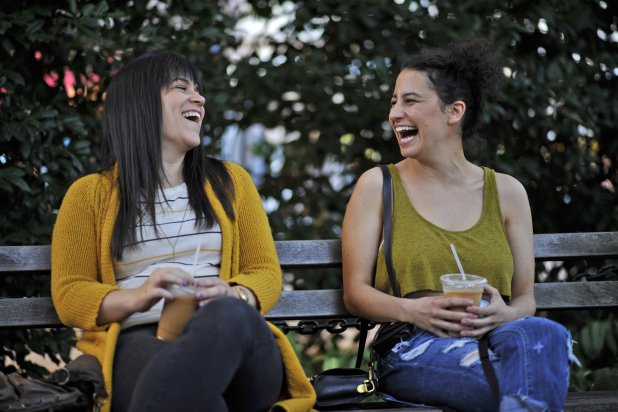 Maybe, maybe not. Ryan lists quite a few titles to prove her thesis, including
Master
Of None, Full Frontal With Samantha Bee, Last Week Tonight With John Oliver, Broad City, Unbreakable Kimmy Schmidt, BoJack Horseman, Survivor's Remorse, Fresh Off The Boat, Black-ish, The Grinder, Transparent, Togetherness, Catastrophe, Silicon Valley, Veep, Last Man On Earth, Girls, You're The Worst, Louie, Inside Amy Schumer, Crazy Ex-Girlfriend
and "best show on TV"
Jane The Virgin.
This list shows, if nothing else, we've got a lot of channels--including Netflix and Hulu--but does it prove we're in a golden age? It doesn't matter how many shows you have--what counts is how good the best ones are. Unfortunately, I haven't seen, or have only slightly sampled, most of these, so it's hard to make a judgment regarding this era.
But was it so barren last decade? Let's go back to the end of the aughts--2009--and look at some of the comedies we could check out:
The Office, 30 Rock, Parks And Recreation, Better Off Ted, Glee, Flight Of The Conchords, Entourage, Weeds
,
The Daily Show, The Colbert Report, Late Show With David Letterman
and
Late Night With Conan O'Brien
, not to mention shows still with us, such as
The Simpsons, Family Guy, The Big Bang Theory
and
Modern Family
. Then there were my two favorite comedies of the century so far,
Community
and
Party Down
. Was it that awful then, or is Ryan just trend-mongering now? All I can say I don't feel more comedy-fulfilled at present than I was last decade.