M&M or Ready For Prime Time?
Up until the 1980s, prime time variety was a mainstay of television. I'm not sure why it died out, but people apparently preferred continuing storylines or reality TV. So it's a bit of a surprise to see NBC give a shot to
Maya & Marty
, a Tuesday night hour on NBC done in the variety format. Hosted by Maya Rudolph and Martin Short, it's mostly sketches with the occasional musical number.
When I first heard about the show, I was a bit confused. It seemed to me Martin Short was a bigger name than Maya Rudolph, so why the equal billing (with her name first)? Apparently, the original idea was to give Rudolph her own show, but when the pilot didn't catch on, Short came aboard and the hour was retooled.
Maya & Marty
also features Kenan Thompson in the supporting cast, and the first episode had guest stars Tom Hanks, Larry David, Jimmy Fallon and Kate McKinnon, as well as musical acts Miley Cyrus and the Broadway cast of
Shuffle Along
. Next week promises Tina Fey and Steve Martin.
These are mostly names associated with
Saturday Night Live
, and though no one officially says it, this is essentially the
SNL
summer replacement show. In fact, it's produced by
SNL
's Lorne Michaels, and is performed in front of a live (and highly responsive) audience.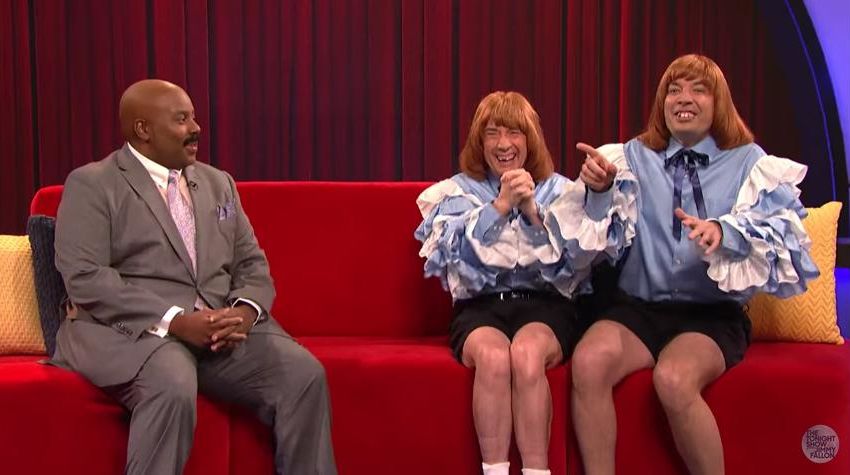 I wouldn't call the material awful, but it rarely rose above the mediocre (sort of like
SNL
itself). My favorite bits were a pre-taped selection where Short as Jiminy Glick--a character he's done before (and who once had his own show)--talked to Larry David in what appeared to be an improvised interview, and a sketch about letters written between a Civil War soldier and his uncommunicative wife.
Maya and Marty themselves, though both game, didn't have much chemistry. Is this because they both think they should be doing their own shows? And will they try to address this in the future? Also, both Rudolph and Thompson appeared in ads during the show--real ads, not fake ads. Is this part of the deal?
Anyway, I'm a fan of Short (and have nothing against Rudolph), so, not unlike how I view
Saturday Night Live
, I'll probably watch the program if I'm around. And where have I got to go at 10 pm on Tuesday nights?
PS The critics have not been kind. Maureen Ryan's
review
in
Variety
, by the way, singled out the Civil War sketch as one of the low points, calling it a parody of Ken Burns and interminable--actually, the main point wasn't mocking Burns (a lot others have done that) and the bit allowed the jokes to progress, rather than repeating the same basic gag, which is what makes so many
SNL
sketches interminable. She did like Jiminy Glick, though she thought the bit was too long. She described Jiminy as "obsequious," which suggests she either doesn't understand the character or the adjective.