I was just reading Michael Coveney's
biography
of Maggie Smith. She's one of the premiere actresses of our day--a leading lady on stage, where she's received accolades for both classic and modern roles, and film, where she's gotten six Oscar nominations and won two. She's has a great gift for comedy, but is equally at home in straight drama.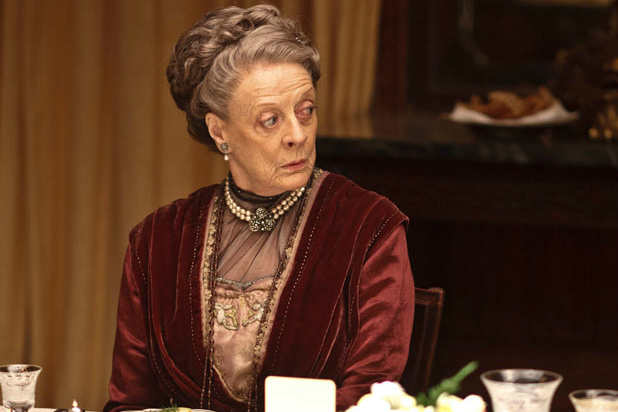 Yet, if you asked the average person how they know Maggie Smith, most would probably say "she's the nutty old Dowager Countess from
Downton Abbey
." (Or perhaps the headmistress at Hogwarts in the Harry Potter movies.)
Smith is great as the Countess, deserving the Emmys she's won. And I can't blame her for taking the job--it's work, and it's probably decent money. But sitting in a chair and cracking those tart-tongued one-liners is the kind of thing she can do in her sleep. It got me thinking, how many other fine, classically-trained British actors are known for flashier, modern roles in TV or movies?
Here is a partial list:
Judi Dench
. A prominent stage actress who later became a respected name in films, garnering seven Oscar nominations, she's probably best known as M in the James Bond series.
John Gielgud.
Arguably the greatest Shakespearean actor of the twentieth century, he gained his greatest fame--and only Oscar--as wise-cracking Hobson, the butler (or was it valet?) in
Arthur
.
Alec Guinness
. A fine stage actor who became one of Britain's best film actors, he is best known today as the iconic Obi-Wan Kenobi in the Star Wars films.
Ian McKellen
. He spent much of his career doing great work in the theatre, but once he hit his 60s, became well-known for leading roles in two gigantic franchises--Magneto in the X-Men films, and Gandalf in the Lord Of The Rings films.
Gary Oldman.
A successful stage actor, he gained notice as a young leading man in art films. But then he really got famous when he appeared as support in blockbusters such as his Sirius Black in the Harry Potter series. Today, he's probably best known as Commission Gordon in the Batman series.
Diana Rigg.
Gained early notoriety in television as Emma Peel in
The Avengers
, but regularly returned to the stage, where she was a leading lady for decades. Today, she's probably best known as Lady Olenna in
Game Of Thrones
, where she seems to be doing an imitation of Maggie Smith as the Dowager Countess.
I wonder how these actors feel about their late-found fame. Alec Guinness was happy to make so much money that he could retire in comfort, but he didn't particularly enjoy being known worldwide as a wizard in a kid's film. As for the others, after decades of doing good work in relative obscurity (they were big in certain circles, but weren't stopped in the street), to be suddenly recognized everywhere they go, and make some nice paychecks, I would guess has them tickled.