Behind The Screams
Roadies
, created by Cameron Crowe, is about those invisible people who make rock concerts happen. It's Showtime's ill-timed attempt to have an hour about the music biz, premiering as it did just after
HBO canceled the expensive flop Vinyl
. But after sampling the first two episodes, I'm surprised at the
bad reviews
. I think they've got something.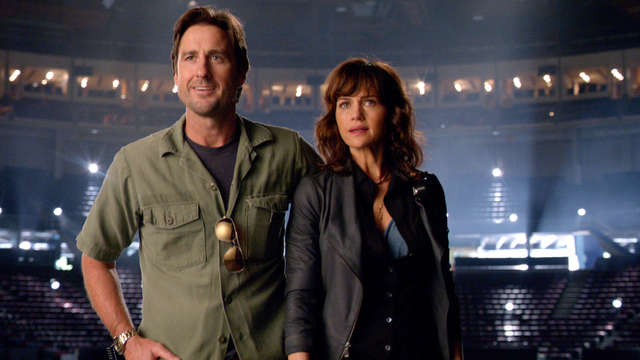 It's no classic, but it's fun. The dialogue is snappy, the characters likable. It's a little sentimental, and it's light, but that's what we need after the very heavy
Vinyl
. The one thing that clearly comes across in
Roadies
is the passion for music, the love for rock, which I'm guessing is the main reason former rock critic Crowe did it in the first place (along with fellow executive producers J. J. Abrams, Winnie Holzman and Bryan Burk).
The plot is fairly straightforward. We meet the crew that runs the tour of the fictional Staton-House Band. The group is apparently a big deal, since they're playing arenas. (Other real rock names are mentioned, but so far we haven't met any of them doing cameos.) There's Bill (Luke Wilson), tour manager, Shelli (Carla Gugino), production manager, rigger Kelly Ann (Imogen Poots), sound person Donna (Keisha Castle-Hughes) and a few others. Into their life comes British financial advisor Reg (Rafe Spall), who runs a tight ship. He fires a few people (including the venerable, beloved Phil) and demands everyone else take pay cuts. Reg isn't the bad guy, exactly, but he's a sign of the new way things will be done.
Most of the characters have their own issues, in addition to getting the show on. For instance, Bill and Shelli seem to have a thing, even though Shelli is married (to Taylor Swift's tour manager), and Kelly Ann wants to quit and go to film school. But so far, this isn't a high tension show, which is fine with me--the main thing is it captures the atmosphere of this world.
It's set in the present, but the feeling is retro. Much of the music we hear, in fact, would fit comfortably in the '70s. This is familiar territory for Crowe, of course. He started out as a writer for
Rolling Stone
, and one of his most famous films is
Almost Famous
, about a rock band and its followers. Some consider it a classic, but I consider it a missed opportunity--I don't think it quite clicks, especially due to miscasting. But maybe
Roadies
will do it right. I already like the cast better.