Move It Along
I stayed in town over Thanksgiving weekend. The place, while not deserted, seemed underpopulated. Which was nice, since Los Angeles underpopulated is like most other places slightly overpopulated.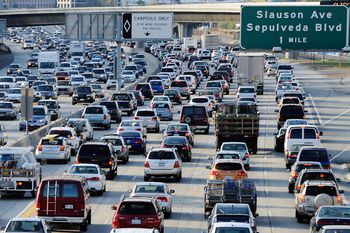 The best thing was the traffic. It went from unbearable to merely annoying. You could actually move on the freeways, rather than feel like you were sitting in traffic most of the way.
The amazing thing is LA is
trying
to make it more miserable to drive. The idea is to force more citizens to take mass transit, or go on foot or bicycle. This is insane. I don't ask much of politicians--just don't be actively involved in the pursuit of misery.
If it's even rumored a politician wants more traffic jams, that should be a career-ender. But when you've got a one-party town, it's hard to stop what would anywhere else be extremism.