Roles And Rolls
I've got my geeky side, but I've never felt a full nerd since I've never played Dungeons & Dragons. I've spent a fair amount of time on chess, Scrabble, bridge, even Risk, but I've never gotten lost in a role-playing game. Perhaps it's my aversion to fantasy (as opposed to sf).
I've known plenty of friends who did, though, and I can understand the appeal. Which is why I read David Ewalt's
Of Dice And Men
, his history of D&D. It's an enjoyable book, though I'm still not sure if I understand exactly how the game is played. Perhaps that's because there are so many versions, and each round is different, depending on the participants, especially the dungeon master. As to why people keep coming back, that's a psychological question which I suppose anyone who loves a game can understand.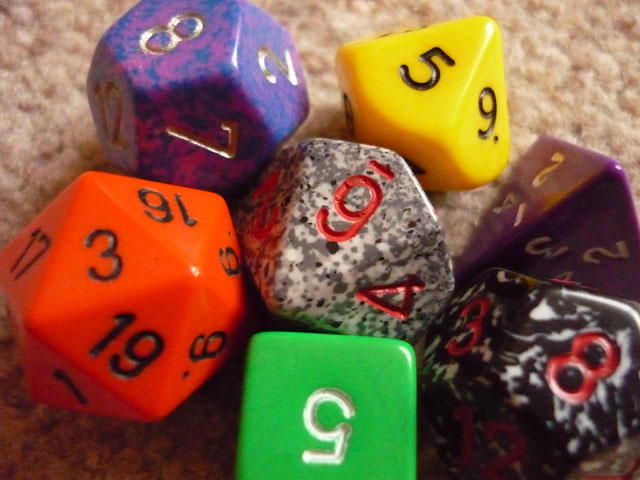 There have been war games for centuries, many trying to be as realistic as possible--sometimes for training purposes. Ewalt even tries one for the book. (Ewalt is a D&D nerd and much of his book details his personal excursion into this world). But D&D is fairly modern, having been developed in the 1970s by Gary Gygax and Dave Arneson. They partnered on their fantasy game and built a company out of it (as there were no takers for their work). It expanded into a multi-million dollar business, though along the way Arneson left in acrimony and Gygax was later bought out. They also kept coming out with newer, more complex versions of the game, and allowed countless people (mostly males) to let their nerd flag fly.
If I understand correctly, everyone in the game has their own character, each based on certain classes, like warrior or wizard or cleric or bard (I'm sure real D&D fans are reading this and saying "no, that's a subclass, not a class"--the rules go into hundreds and hundreds of pages). Each character has various powers and strengths, and these can change as the game goes along. Teams of characters go out on campaigns run by the dungeon master, some of which are preset, some fairly open-ended. They meet various curiosities or dangers as they learn about the world they're in, and deal with them both through role-playing and the roll of many-sided dice. What happens to the characters and the worlds they're in can be cumulative, spread out over many campaigns.
Ewalt shows how it can be an obsession. I'm not sure if I'd have to patience to get into it--it seems somewhat silly to get so excited about it, at least looking at it from the outside. But then, I waste enough time watching movies and TV--who am I to look down on someone else's enthusiasm?