New New Beverly or On The QT
The
New Beverly Cinema
has been a mainstay of my filmgoing since I moved to Los Angeles. It's within walking distance and while other revival house close, it's remained defiantly open, showing both old and new classics, often with actual filmmakers (this being LA) dropping in. A few years ago it looked like it might close but in swooped Quentin Tarantino to buy it, and keep it running along its old lines.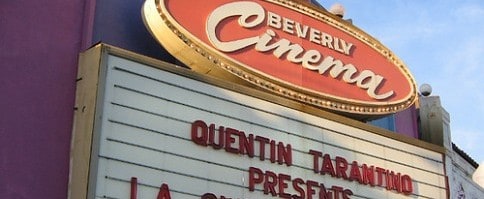 Tarantino is one of the last people in Hollywood who believes in film, as opposed to video. He still shoots on film even though the format is essentially outmoded. And he likes showing film in his cinema. He's got a huge collection of 35mm stuff from which to pick.
This month the New Beverly is closed for repairs. Not a bad idea. While the place did have a pleasantly run-down feeling, a little sprucing up can't hurt. But the bigger
rumor
is that Tarantino will be taking a more hands-on approach toward running the place. Hard to know how to feel about this. It's not like it hadn't been run well before, but maybe he'll add something. Either way, it'll be good when it opens its doors against come October.