Is OK OK?
I just caught up with
Olive Kitteridge
, the four-hour miniseries HBO ran in early November. Starring Frances McDormand in the title role, it's based on a Pulitzer Prize-winning novel of the same name. I haven't read it, so I can't say how closely it sticks to the original.
It starts with Olive as an old women going into the woods to commit suicide. Then we flash back a few decades, and the rest of the show, with some back and forth, moves along a chronological line, focused on Olive, husband Henry (Richard Jenkins) and their son Christopher of fictional Crosby, Maine. Other characters come and go--I understand the book was a series of interrelated short stories about many families, so maybe that explains why so supporting characters are prominent in one hour and pretty much disappear otherwise.
It's a classy, literate project, if a bit muted. The main emotion is melancholy. It reminds me a bit of HBO's
The Leftovers
, another smart show where characters spend a lot of time trying to deal with loss, but without much of a plot for forward motion. Not that nothing happens--there are deaths, near-deaths, fights and so on, but the emphasis is on how people deal with their lives, and can't easily escape who they are.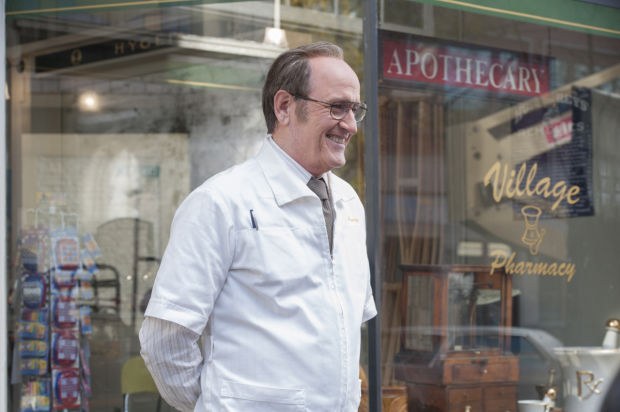 McDormand is good as the flinty Olive. She doesn't yield easily, and is generally on the depressed side, but she seems to have her reasons. Even if she isn't always sympathetic, McDormand--and intelligent writing--make her interesting. Just as good is Jenkins as her husband, the town pharmacist--a much more easy-going fellow who puts up with his wife, but has his own longings. There may be some love in their relationship, but it's buried pretty deep--certainly we don't see much heat between them.
Also good in supporting roles are Zoe Kazan as the perky Denise Thibodeau, who works at the pharmacy, Peter Mullan as Jim O'Casey, an unorthodox teacher whom Olive flirts with, and Bill Murray as Jim Kennison, a local man who meets Olive when neither have much to loose.
I'm glad HBO does this kind of thing. I'm not sure if a movie from this material could get financed. And though it's often sad, it does end on a note of hope (or is that a spoiler?).