Austin Tossed In
Just by chance I recently saw two rarely-shown films that feature
Austin Pendleton
. He's a character actor, still going strong at 75, who usually plays fussy or wimpy types. He started on the stage, creating the role of Motel in the original Broadway production of
Fiddler On The Roof
. Since the late 1960s, when not doing theatre, he's popped up in numerous movie and TV roles.
First I saw him in
The Thief Who Came To Dinner
, a 1973 comedy caper starring Ryan O'Neal at the height of his popularity. He's a cat burglar whose signature is to leave chess moves in place of the jewels he pilfers. Jacqueline Bisset is his love interest, Jill Clayburgh his ex, and Warren Oates the investigator who's always one step behind. Bud Yorkin (who died not too long ago) directed, and Walter Hill wrote the screenplay based on a novel.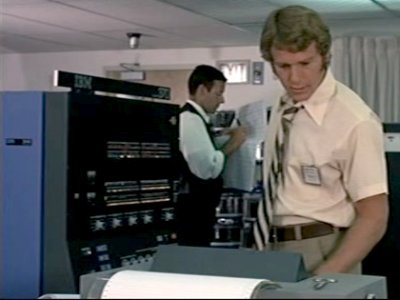 Pendleton comes into the plot as a chess columnist for the local paper. He starts playing against the moves of the burglar. What he doesn't know is O'Neal has access to one of those powerful early 1970s computers, which gives him each move. Sure enough, Pendleton loses the game, and doesn't take it very well. He's amusing, but the whole plot is rather silly and the film is a misfire--pleasant enough, but never really taking off.
Then I saw
Simon
, a 1980 comedy starring Alan Arkin. It's written and directed by Marshall Brickman, who had already co-written
Sleeper
,
Annie Hall
and
Manhattan
with Woody Allen. The concept is a group of geniuses, living in a retreat financed by the government, who secretly have control over all sorts of things. They were supposed to solve the world's problems, but instead just do projects to amuse themselves. Since America is fascinated with UFOs, they decide they're going to find an orphan, take him in, and convince him he's of extra-terrestrial origin.
This is where Arkin, a community college professor whose dreams are greater than his intelligence, comes in. He believes he's part of the group when in fact he's only a guinea pig. After they've convinced him he's an ET, he starts making pronouncements to the world that get a lot of attention. The geniuses think he's gone too far and plan to get rid of him. It's here he and his girlfriend (played by
The Electric Company
's Judy Graubart) escape from the compound and have a battle of wits with the geniuses.
Pendleton has a major part as the head genius who runs the entire operation. He's the villain, though I find him so likable as an actor I was almost rooting for him. He has a final confrontation with Simon and loses, of course, but it's probably one of Pendleton's biggest roles on film.
The concept isn't bad, but the film doesn't quite make it. There are some fine comic ideas, but they're not carried through well enough. Maybe Brickman should have had Woody punch up the script.
So there's Pendleton in two films that don't really make it. But he's one of those guys you're always glad to see, even when the movie doesn't work. Especially when the movie doesn't work.