Ready When You Are, CB
Louie
is probably the most idiosyncratic show--I'm not sure I can call it a sitcom--on TV. Perhaps ever. But after five seasons, it's not clear if Louis C. K. wants to do more. (It's nice to be wanted, though.) So coming to the rescue is
Baskets
.
It stars Zach Galifianakis in the title role--yes, his character's name is Chip Baskets. He wants to be a clown--but one named "Renoir," not "Baskets." So he goes to a prestigious clown school in Paris, though he doesn't learn much as he can't speak French.
He has a girlfriend, of sorts--Penelope. She doesn't seem to like Chip, however, and tells him she'll marry him and move to America only so she can get a green card and abandon him as soon as a better-looking offer comes along. Once they get to the USA, she lives separate from him and only calls when she wants something, such as $40 to get an HBO hookup.
Chip, living in a motel, gets a job as a rodeo clown. He's not particularly good, but the crowd enjoys it when the bulls hit him. When he wrecks his scooter in an accident, a friendly female insurance agent drives him around. She seems to like him, though he treats her with something close to contempt.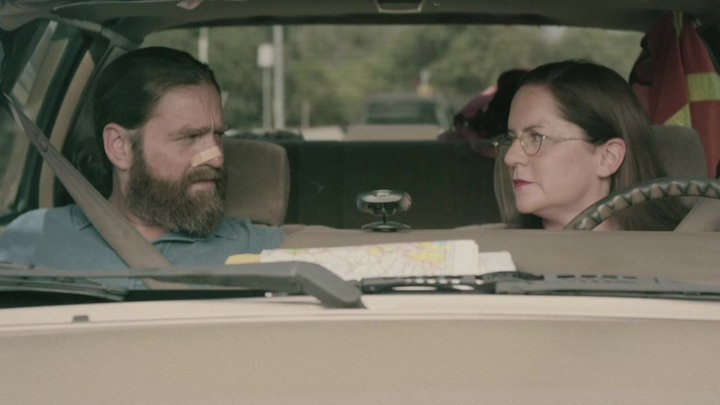 We get to meet his family, who live in Bakersfield, California. There's his mother, who just wants him to be happy, and his twin, Dale, who's made a success of himself with a training school and lords it over Chip.
The plot is odd enough--and I have no idea where it's going--but the deadpan style is even weirder. Of the supporting cast, I especially liked Martha Kelly as the too-helpful insurance agent. On the other hand, I'm not sure why comedian Louie Anderson plays the mother.
Baskets
was created by Galifianakis along with Jonathan Krisel--who's worked with Tim & Eric as well as on
Portlandia
and
SNL
--and Louis C.K. himself. The pilot wasn't exactly laugh out loud funny, but I can see it growing on me. Anyway, this season has only five episodes, and that's not too big an investment to make, even if it goes nowhere.