Dead To Me
The Walking Dead
just took its mid-season break. The ratings are down, but the show is still a phenomenon. Though how much longer?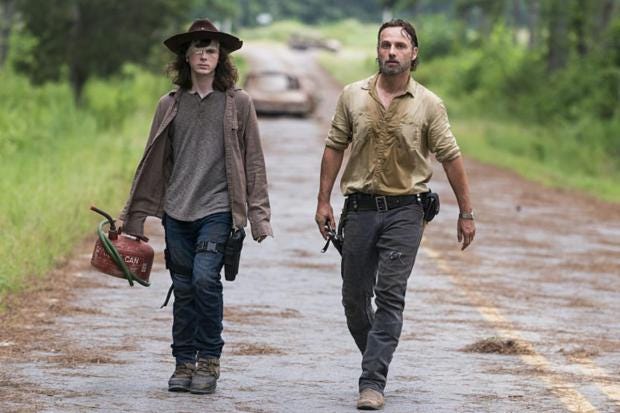 I kinda sorta watch the show. Sometimes I have it on in the background, and if I miss it, no big deal. I didn't watch it for the first two seasons. I disliked the whole concept. I like zombie movies, because they're great monsters--for a couple of hours. They're relentless and you can't afford to take it easy for a second. But then the movie ends, and either you've defeated the zombies or they've defeated you. The idea of zombies chasing after people week in week out seemed exhausting, not entertaining.
But the show was such a big hit I decided to check it out to see what the big deal was. What I discovered was a poorly-written, poorly plotted show, though it did have nice, gruesome violence and a few characters who were worth rooting for.
Since then, the show has only gotten worse. Or maybe it's just stayed the same, which isn't good enough. It's based on a comic which I don't read, but even if I did, I'd have to judge the show on its own merits. For the last couple of seasons, the main villain has been Negan, and there's a huge war going on among a number of post-apocalyptic human communities.
However, the action is ungainly, the logistics are impossible, most characters are just annoying and their motivations make no sense. I realize it's tough to pull off this sort of massive project, though other shows have done a far better job of maneuvering around a giant cast (such as
Game Of Thrones
or
Lost
, though those shows also have or had serious flaws).
The big news for the mid-season finale was a major character is getting killed off. Fine with me. I would have liked to see this character die a long time ago. Of course, that's how I feel about most of the characters.
So perhaps the real question is why do I watch this show at all?