Ninety New Minutes
There are a couple new TV shows I just sampled, very unalike.
First there's a sitcom on ABC,
The Real O'Neals
. It's about a perfect Irish Catholic family that turns out to be not so perfect. One kid's a thief, another is anorexic, another is gay. Plus the mom and dad are planning to get divorced.
The mom is played by Martha Plimpton, the dad by Jay R. Ferguson (Stan of
Mad Men
, without a beard). The gay son, who narrates the show, is Noah Galvin, who I've never seen before.
The cast is game and the writing is slick, but there's no inspiration. I already watch two ABC family sitcoms,
The Middle
and
Modern Family
. If I don't have room for
The Goldbergs
and
Black-ish
, I don't think I'll have room for
The Real O'Neals
.
Then there's
Hap And Leonard
, a gritty six-episodes miniseries on the Sundance Channel. It's based on characters from a series of novels by Joe R. Lansdale that I've never read. As far as I can gather, the action is set in the late 80s, and the two title characters are close friends who've known each other since they were kids. One's white and one's black, and both are working class types who get involved in sometimes unsavory adventures.
Also, Leonard (Michael K. Williams) is gay, but Hap (James Purefoy) isn't. Still they both love each other, and argue and fight just like lots of buddy-buddy couples do.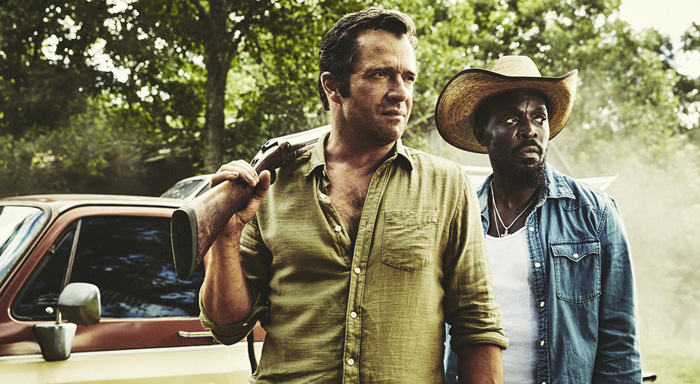 Into their life comes Hap's ex-wife Trudy (Christina Hendricks), who still holds tremendous attraction for Hap, though Leonard thinks she's bad news. Her latest beau knows of a million dollars in cash that was lost under a bridge years ago. (We know it's true since the chase that led to it all was the opening scene.) Sure enough, Hap and Leonard get involved, and Trudy introduces them to a pack of guys who are in on the plan. (Though how much plan is there? You either locate the money or you don't.)
Then there's also a creepy guy with a bizarre girlfriend who seems to be on the trail of these people, though it's not clear what their plan is. The guy is played by Jimmi Simpson, who is Hollywood go-to guy when they want someone creepy.
The show has action, but is mostly about the characters, especially Hap and Leonard. The larger mission will take the entire miniseries to unfold, I assume. In that way, it's not unlike the first season of
True Detective
. The dialogue isn't as good, but the main characters are interesting enough that I suppose I'll stick around for a while.