Let This Be The Last List
There have been a lot of tributes to
Star Trek
, this being its fiftieth anniversary and all. As part of the celebration, the
Hollywood Reporter
lists the
top hundred episodes
of all
Star Trek
shows.
Quite an undertaking, but I don't have much to say about it, since I only truly know the original series. I've watched a fair amount of
Next Generation
, but missed as many episodes as I've seen. And I've only caught a few stray hours from
Deep Space Nine
,
Voyager
and
Enterprise
. The only thing I can judge on the list is how it ranks episodes of the original. And here I was surprised.
The #1 episode of all time--for all the shows--is "City On The Edge Of Forever." No surprise. In fact, it would be a surprise if it weren't there--it'd be like a top movie list without
Citizen Kane
. The next two choices from the original series, at #3 and #5, are "Balance Of Terror" and "Space Seed." I don't know if they'd be my picks, but as expected. Then #8 is "Mirror, Mirror"--another likely title to show up on the list.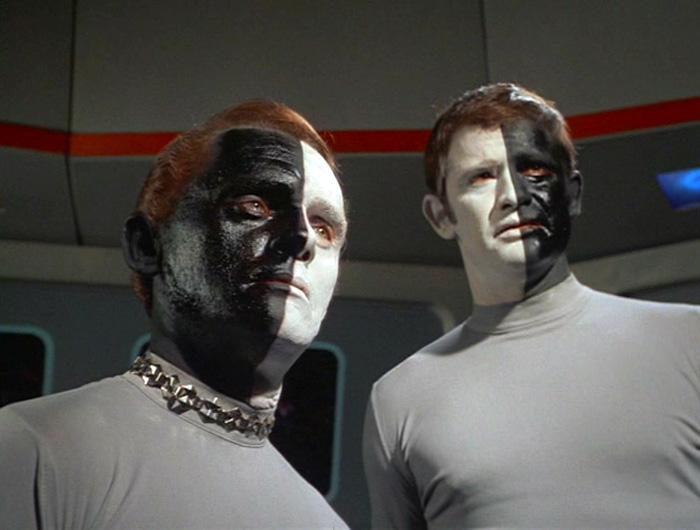 Then we get to #11: "Let That Be Your Last Battlefield." Come again? If you're a
Trek
fan you know which one I'm talking about, but if not, it's the one where two aliens fight each other because they have black and white faces, but the black and white are on different sides.
It turns out this is Shatner's favorite, but I don't know anyone else who agrees*. This heavy-handed allegory on race relations has usually been considered an embarrassment, even among the weak episodes of the third season.
The list soon follows with mainstays like "A Piece Of The Action" and "The Trouble With Tribbles," but it's hard to read any further. Putting "Battlefield" up so high--or on the list at all--sort of makes the whole project pointless.
*I just read
this article
in
Variety
where people connected to
Star Trek
pick their favorites, and to my surprise, two of them listed this episode, including Jonathan Frakes.