Candyland
I've discussed this at previous Halloweens--a map of the
most popular Halloween candy
, state by state. But looking at it, I really have to question the data. They say it's a survey of 2004 people across the nation. Who are these people? Are they truly representative?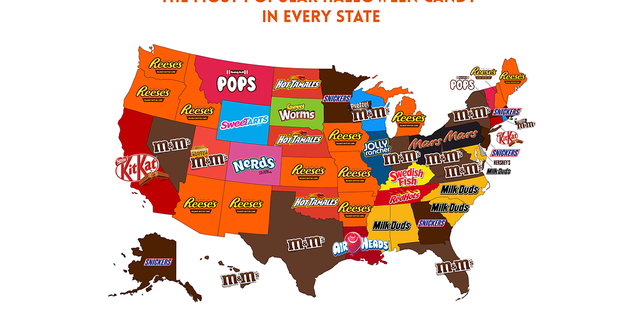 Reese's is quite popular in many sections of the country: the northeast, the northwest, the southeast, the Great Plains and my home state of Michigan.
On the other hand, plain M&M's are huge in highly populous states such as New York, Florida and Texas, not to mention Virginia, Indiana and Nevada. Why plain M&M's but not peanut? (Oh, right, allergies.) Yet, somehow, pretzel M&M's (really?) are number one in Wisconsin and Rhode Island. And Peanut Butter M&M's (aren't they allergic to that?) are the favorite in Utah (is it a Mormon thing?).
You'd think Snickers, the most popular chocolate bar in the land, would be big, but it only registers in Hawaii, Georgia, Minnesota, New Jersey and Connecticut. Meanwhile, most of the Deep South loves to hand out...Milk Duds? Really? And Ohio plus Pennsylvania form a solid if lonely bloc for Mars Bars.
Then there are surprise choices that have taken over certain states. Montana and Vermont--Tootsie Roll Pops. North Dakota, Nebraska and Oklahoma--Hot Tamales (maybe the preference skips a state). South Dakota--Gummy Worms. Wyoming--SweeTARTS. Colorado--Nerds. Louisiana--Air Heads. Tennessee--Red Hots. Kentucky--Swedish Fish (hey, this is an American holiday--at least we do it different). Illinois--Jolly Ranchers.
I don't know. I find it fishy. Swedish Fishy.
If you were wondering, the state I live in prefers Kit Kats. That I can sort of see.